Free Online Risk Assessment Tool
Welcome to My Risk Assessment, where you can reduce your chance of accidents and incidents occurring in the workplace, with just a few clicks of a button and five minutes of your time. We offer a free online risk assessment tool that can be used to document any risks found in your workplace.
Risks in the Workplace
A risk in the workplace can be anything that poses the threat of an accident. In the UK, 137 people died from workplace accidents through 2016/17. Most of these deaths could have been prevented by following basic procedure, which should have been put in place after a risk assessment document was completed. There were also a further 621,000 injuries recorded in just 12 months.
Risk analysis plays a huge role in Health & Safety in the workplace and if not completed, can leave employees and customers in danger, so filling in our freely-provided documentation is highly recommended.
To date, over 5,245 people have created free risk assessments by using our tool!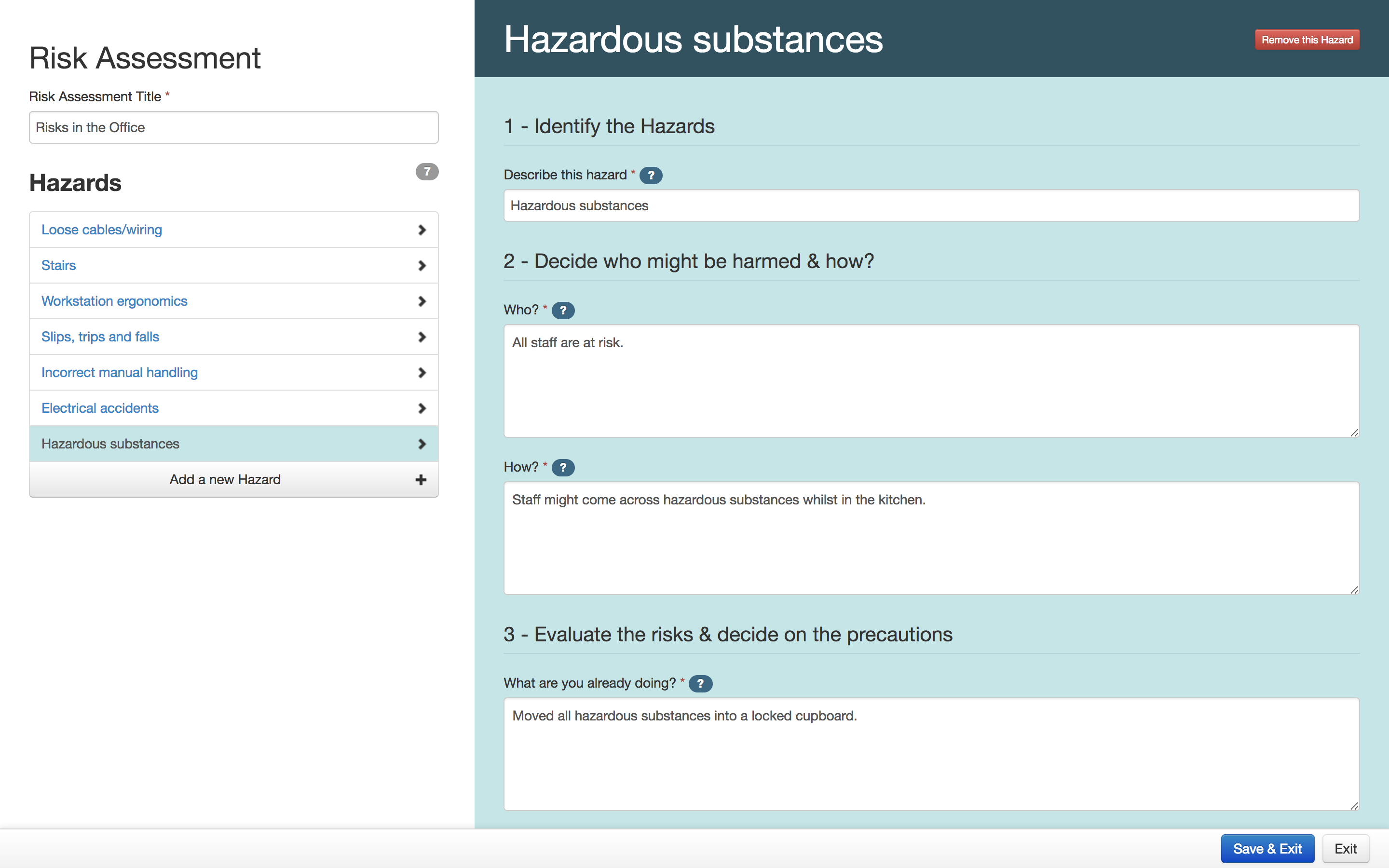 Analysing Risks
By analysing risks, you majorly decrease the chances of any accidents occurring in the workplace. It enables you to keep track of what can go wrong, before it actually does go wrong. With over 30.4 million working days lost from workplace injuries in the UK alone, you shouldn't need any other incentive to do your part and reduce the chances of any accidents taking place.
Example - Potential Risks in an Office Environment
An office is one of the more safer working environments but even so there are still many risks which can pose a potential threat to workers Health & Safety. Some include:
Loose cables/wiring
Stairs
Workstation ergonomics
Slips, trips and falls
Incorrect manual handling
Electrical accidents
Hazardous substances
Risk Assessment Training
This tool was extracted from iHASCO's comprehensive Risk Assessment Training, which teaches you why you need to assess risks (although that should already be clear!), when you should assess risks and the 5 steps to a risk assessment. We also recommend that you look into iHASCO's Risk Assessment Training as well as using this free risk assessment tool.